Deck the halls, the taco truck, and your holiday life with taco-themed Christmas stuff. Nothing quite gets you into the holiday spirit like a taco, an ugly taco holiday sweater, and fa-la-la-la-salsa-ing your Christmas tree and home with a festive taco arrangement of ornaments, lights, and a door wreath.
This post contains affiliate links, which means we may receive a small commission, at no cost to you, if you make a purchase through a link.
Ornaments
Buy it pre-made or make your own taco ornament. It's like going through the drive-thru at Taco Bell or making your own tacos for Taco Tuesday. No judgment either way.
Holiday Taco Lights
Let the taco light shine forth from your Christmas tree with this string of LED taco lights.
Taco Wreath/Door Hanger
When the carolers come a knocking singing popular holiday tunes, like We Wish You a Merry Taco Christmas and Deck the Taco Truck, they'll be greeted with your festive taco door hanger.
Christmas Taco Clothing
Your Christmas tree isn't the only thing you can deck with taco holiday flare. Whether you have a holiday party to attend at the office or a white elephant gift exchange these taco-themed sweater and long-sleeved shirts will make an impression.
Taco Christmas Card
Wish your family and friends and dentist, a very Merry Christmas or a Happy Taco-days with a taco wearing a Santa hat. This card screams holiday cheer and taco cuteness. You could just eat it up. Seriously, we want to eat a taco.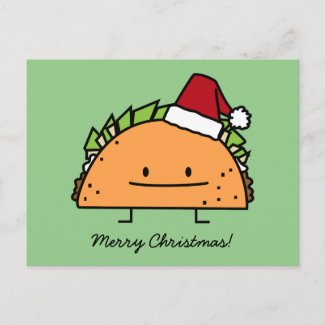 by
kitteh03
Taco Stockings
While chestnuts roast over an open fire, people will be admiring your taco Christmas stockings hanging on the mantel. Just make sure you fill it with all your favorite taco swag and hot sauce.
Save for later on Pinterest!